Refaeli began her modeling career before the age of one. By the age of fifteen she was featured in campaigns for the
fashi
on
brands Castro and Pilpel, also starring in a commercial for Milki.
Refaeli won the title "Model of The Year" in a beauty contest in 2000 and 2001. She was also chosen to be the home model of Renuar fashion network and appeared in their summer 2002 and winter 2003 catalogues.
She was cast for fashion production abroad, among them Dim, and appeared in the French ELLE magazine. She is the first Israeli model to be featur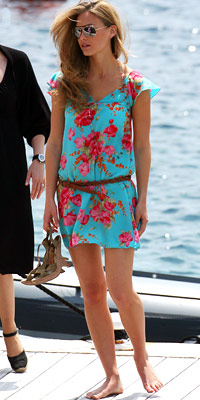 ed in Sports Illustrated magazine; the same picture was later published on the cover of Maxim.
She appeared on the cover of the March 2006 issue of GQ Italy. She was in the March 2007 issue of Sports Illustrated in a swimsuit and posed with the band Aerosmith as well.
Bar
appeared in a September 2007 Paris-Match issue where she was interviewed by reporter Caroline Mangez. The six-page article had many
pictures
and an interview about
Bar
's life in Israel, her family and her work.
She also appeared on the cover of Tatler magazine for the October 2007 issue. Refaeli will star in an English language film named Session directed by Israeli director Haim Buzaglo.